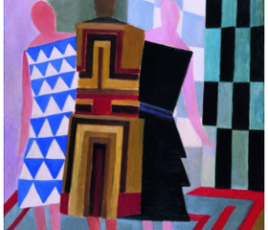 News
The EY Exhibition: Sonia Delaunay
Tate Modern
April 15 to August 9, 2015
Sonia Delaunay (1885–1979) was a key figure in the Parisian avant-garde and became the European doyenne of abstract art.

Throughout the first half of the twentieth century, she celebrated the modern world of movement, technology and urban life, exploring new ideas about colour theory together with her husband Robert Delaunay.

This will be the first UK retrospective to assess the breadth of her vibrant artistic practice across a wide range of media. It will feature the groundbreaking paintings, textiles and clothes she made across a sixty-year career, as well as the results of her innovative collaborations with poets, choreographers and manufacturers, from Diaghilev to Liberty.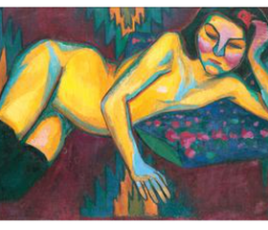 News
Sonia Delaunay - Les Couleurs de l'Abstraction
Musée d'Art Moderne de la ville de Paris
October 17, 2014 to February 22, 2015
For this, the first major Sonia Delaunay retrospective in Paris since 1967, the Musée d'Art Moderne de la Ville de Paris is bringing together three remarkably recreated environments and over 400 works: paintings, wall decorations, gouaches, prints, fashion items and textiles. Tracing the artist's evolution since the beginning of the 20th century to the late 1970s, this monographic exhibition highlights her work in the applied arts, her distinctive place in Europe's avant-garde movements and her major role as a pioneering abstractionist. The exhibition will be on show at Tate Modern in London between 15 April and 9 August 2015. A generously illustrated catalogue of 256 pages will be published by Paris Musées to mark the exhibition.