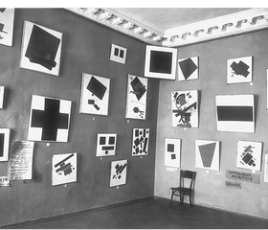 News
In Search Of 0,10 - The Last Futurist Exhibition of Painting
Fondation Beyeler
October 4, 2015 - January 10, 2016
100 years ago, in the winter of 1915/16, a legendary exhibition took place in Petrograd (today St. Petersburg), Russia, featuring 14 artists – seven men and seven women – of the Russian avant-garde. The show, which was titled The Last Futurist Exhibition of Painting 0,10 (Zero-Ten), became one of the most influential in the history of modern art. It was here that Kazimir Malevich first presented his Black Square, the painting that became an icon of abstract art.

To mark the centenary of 0,10, after many years of research the Fondation Beyeler is organizing an exhibition that for the first time reunites most of the works still surviving today from the original show, complemented by others dating from the same epoch. This critical reconstruction of the historical exhibition includes valuable loans from the State Russian Museum in St. Petersburg, the State Tretyakov Gallery in Moscow and 17 other Russian museums, as well as from celebrated western collections such as the Centre Pompidou in Paris, the Stedelijk Museum in Amsterdam, the Museum Ludwig in Cologne and MoMA in New York.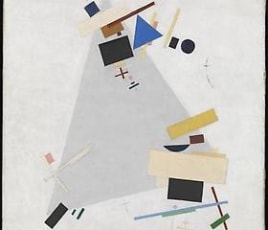 News
Kazimir Malevich and the Russian Avant-Garde
The Tate Modern
August - March 2014
The largest Malevich retrospective in 20 years, this exhibition will include the Khardziev and Costakis collections together for the first time.